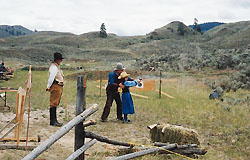 It was a scene from bygone days. Gentlemen in frock coats and long dusters stood in conversational groups, gallantly doffing their Stetsons to bow and greet a pair of ladies in ruffled caps whose flounced skirts trailed among the Ponderosa pine needles. Laughing children played tag through the Sagebrush.
The report of gunfire echoed through Palmer's Gulch as shooters of both genders, including young people, stepped up to try their skills with rifle and revolver. The firearms, like their owners, seemed to belong to a different era.
Yet all this action was happening in the year 2001, just 5km outside the municipal boundaries of Kamloops, a sprawling city of 75,000 in the B.C. interior.
What's going on? Who are these people?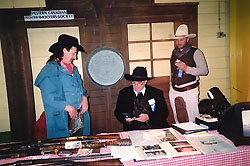 They're members of the Western Canadian Frontier Shooters Society at their regular match. In frontier action shooting competitors use firearms typical of those used on the Western frontier: single action revolvers, double barrel shotguns, lever action rifles etc. All are either original guns or replicas with pre l897 patent dates. Replicas follow the basic patent but have modern safety devices.
Shooting competitions are set up to depict events on the frontier; imitations rather than actual re-enactments. Every time there's a match, there's a change in scenario. All competitions have frontier themes and most give an authentic Canadian perspective, acknowledging the use of firearms on the Canadian frontier.
They may include fiction as well as authentic history. At an Alberta competition every stage simulated one scene from each of Clint Eastwood's western movies.
In a departure from the original frontier situations, safety is stressed. Each match has a range officer. There are no loaded firearms unless they are under his direct supervision. Only one shooter at a time engages the target. Targets are usually reactive steel silhouettes of bears or feral dogs.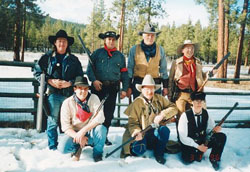 Being a member of the WCFSS involves more than marksmanship. Authentic frontier dress is a requirement. The resulting display ranges from floral waistcoats to fringed frontier scout jackets. Most ladies wear the traditional long dresses but some opt for fetching buckskin outfits.
Clothing must be appropriate for the persona each member adopts. Both costume and character reflect the period from 1865-1910. WCFSS members choose an alias to indicate their background, interest or some facet of their character and develop a personal history around it. The list of aliases is fascinating, indicating the diversity of ethnic backgrounds and occupations represented. The Kamloops group, (The Palmer's Gulch Gang), includes doctors, lawyers, accountants, painters and body mechanics.
"Tax Ritter" is, of course, a tax accountant. "Purple Foot" alludes to the member's Italian heritage, "Dutchy" to another's Germanic origins. "Miss Informed" is the group's secretary, "Kick A Tin Along" a transplanted Aussie. "Rusty Hinges" plays a hotel owner.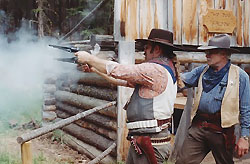 The alias is a way to become someone else, to bring to life a character out of the past, reminiscent of a time when someone could go 'out West' and recreate himself in new surroundings.
Manners are also important. Members treat each other with 'old-fashioned' courtesy.
"Why", I asked Doug Sayewich, spokesman for the group," would someone join a club where creative drama and costuming are as important as shooting?Why not just go target practice?" "Because it's fun!" was the instant, smiling response.
Doug, alias "Porcupine" ('Kinda slow and kinda dumb, just don't mess with one.') explained that WCFSS is not as competitive nor as expensive as other shooting organizations. More importantly, it's a family-oriented society. Doug's son, Nickolas "Hedgehog", (little porcupine), has been shooting since he was eleven. His daughter, Sonja," Miss L. Tood" (say it fast), won the ladies' traditional shoot in Palmer's Gulch last year.
There are not a large number of women in the club yet, but they're encouraged to join.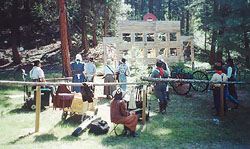 WCFSS started in Canada in the early 1990s. Gary "Silver Fox" , a member of the Malahat shooting range , wanted a place to practice with his heirloom guns. And it grew. There are three groups on the Island, one each in Kamloops and Mission as well as affiliate members from other provinces. They are connected to the Alberta Frontier Shooters Society and affiliated with the Single Action Shooting Society in the U.S. WCFSS doesn't have voting privileges in SASS but there is constant communication and the Canadians attend SASS meets.
Although the group originated as a way to 'do something' with heritage guns, it rapidly became focused on keeping the Western culture alive. It's intent is to conserve an important part of our heritage. The first paragraph in their mission statement declares that their purpose is to encourage the preservation and appreciation of our Canadian frontier history.
The statement continues that the group plans to raise public awareness of frontier events through interpretation and to encourage activities to acquaint the public with survival on the Canadian frontier.
Promoting familiarity with heritage firearms takes second place to recapturing a special period in Canadian history. The memory of that time is vanishing, Doug feels, as Canada becomes urbanized. The urban population generally is unaware of our efforts as hunters, trappers, settlers and farmers. This is more than romantic nostalgia. "It wasn't an easier time", Doug emphasizes, "but a simpler time."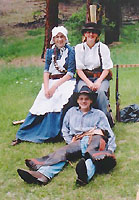 WCFSS's goal is to remind the public that there was a time, not long ago, when Westerners were far more independent and self-sufficient. When people knew and helped their neighbours. When individualists were respected not expected to conform. When the border was only a line on a map, and, usually, no one had a map. When supper was either chased down or raised by the homeowner. When survival skills weren't learned at college. When being a capable hunter meant having food and funds to live. When reading a landscape and being ready to defend cows or cousins against wild life was crucial.
Firearms were a necessary part of daily life on the Canadian frontier. WCFSS feels it's important for the public to remember that cowboys riding the range and settlers plowing their fields were armed.
Their familiarity with guns had other consequences; there is speculation that Canadians were exceptionally competent soldiers during both World Wars because they were experienced hunters.
Our technological advances, comfortable though they may be, come at a cost. In our progress from horse and buggy to moon landings and Palm Pilots, we've lost some of the personal freedom, choice and quality of life on the early frontier. The WCFSS is determined not to let our Western culture die.
Their main event is held June 28-July 1st at Palmer's Gulch, (the Heffley Creek Gun Club). Spectators are welcome. Eye and hearing protection are required but may be borrowed on site the day of the match.
Photographs courtesy of Doug Sayewich.