A COWBOY CENTENNIAL
Story by Trudy Frisk
Photos courtesy of Sally Saemerow
Stamp –Canada Post commemorative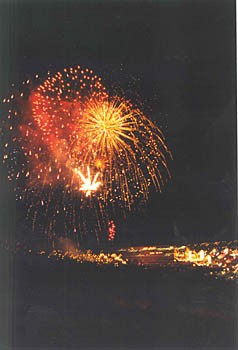 Stampede Fireworks Viewed From Scotchman's Hill

It's an iconic Canadian event which was founded by an American. It's a rootin', tootin' cowboy party which has been enjoyed by generations of the British Royal family. It's a celebration of the western ranching way of life which has included First Nations from the very beginning. It tests competitor's skill and endurance; in fact Canada Post 2012 commemorative stamps salute the athlete's abilities. The athletes referred to are broncs, Brahama bulls and chuck-wagon horses. It is, of course, the Calgary Stampede and 2012 is its one hundredth year.

All Calgarians know the history: how the Stampede was founded by Guy Weadick and the Big Four; George Lane, owner of the Bar U Ranch, A.J. McLean, and A.E. Cross, well-to-do cattlemen, and Pat Burns, owner of a dozen ranches and the Burns & Co. packing plant.

Weadick had first taken his idea to H.C. McMullen, of the CPR Livestock Department. McMullen supported it, as did Archie MacLean, the Alberta Provincial Secretary, himself a cattleman.

The Big Four put up $25,000.00 each, guaranteeing prize money good enough to attract world class contestants. "We don't care if we make any money or not,'', said George Lane. "We don't want to lose any, but be sure that everyone, contestants and public get a square deal….." As it turned out, because the 1912 show, which cost about $100,000.00, including prize money, grossed around $125,000.00 the backers weren't called upon to contribute. Eight thousand dollars came from motion picture rights. Five thousand was donated to local hospitals.

Calgary in 2012 is a boom town, the heart of Western Canada's petroleum industry. Plentiful, good-paying jobs attract people from across Canada and overseas. In 1912 Calgary was a boom town, too. Immigrants were coming by the thousands from Britain and the United States.

A rising real estate market was in full swing. In The Calgary Stampede Story, author Fred Kennedy describes Calgary in 1912, "A bustling, fast moving Western city. Even at that time it was becoming known for its hustle and progressive spirit. The boom was on and money was plentiful." Sounds a lot like Calgary, 2012, doesn't it?

A hundred years ago, as settlers moved in, the nature of the Canadian West was beginning to change. Guy Weadick planned that the Calgary Stampede, by showcasing traditional cowboy skills would maintain their history. It was intended as a salute to the last old great West. He planned well. In 2011 total attendance was over one million people. It's a tribute to the enduring attraction of Western culture.

That culture crosses the 49th parallel.

Weadick, himself, was American. Born in Rochester, N.Y., he came to Canada from Wyoming. A noted trick roper and Wild West performer, he had travelled across North America and Europe before launching his dream Stampede in Calgary. His wife Florence (Flores) La Due, Champion Lady Roper of the World, a famous rider and entertainer in her own right, also performed on these travels. Both understood the attraction of the West.

"There was no doubt but what the young American cowboy had something big. He had planned to stage the contests on an international scale, bring in the state champions from the United States and Mexico, put them against the best riders and ropers that Canada could produce and then top it off with the greatest assemblage of Plains Indians that the world had ever seen. He would call the show The Stampede and it would perpetuate for all time the skill and daring of the cattlemen of Western Canada." Fred Kennedy observed.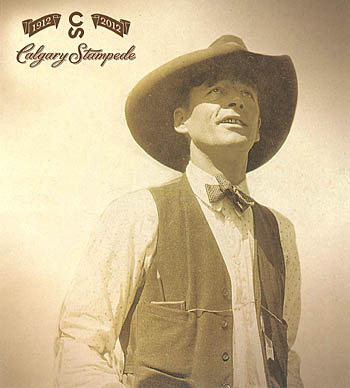 Canada Post Commemorates The Stampede

From its 1912 beginning, the Stampede has included cowgirls, First Nations and British royalty. There's Canadian diversity for you.

The 1912 cowgirl events included bucking horse riding, bronc riding, fancy roping, trick and fancy riding and a relay race. Fancy roping was won by Florence La Due of Calgary, bucking horse riding, by Fanny Sperry of Mitchell, Montana, trick and fancy riding by Dolly Mullins of New Mexico, relay race by Bertha Blancett, Phoenix, Arizona, Fanny Sperry of Alberta won the cowgirls bronc riding. Best outfitted Canadian cowgirl was Alberta McMullen, from Calgary. Prize: $100 diamond ring. Best complete outfit, Florence La Due, Calgary. Prize: one city lot, value $200.

There was an exhibition of steer roping and tying by Lucille Mulhall, of Mulhall, Oklahoma. She was the first cowgirl to rope and tie a steer in public. A photo shows her galloping after the steer, swinging a lasso, not at all hampered by her long skirts. Cowgirls wore split skirts, with hems at the ankles of their riding boots. "The cowgirl's bronc riding contest also proved a popular event, but there was a difference of opinion on the bulldogging or steer wrestling event." wrote Fred Kennedy.

One hundred years later, though there have been changes to cowgirl events, cowgirls are still competing. The ability to ride is so important that all Stampede Queen contestants must be able to ride. Being beautiful isn't enough.

The fascination with Plains Indian culture still draws visitors to the Indian Village on Stampede grounds as it did a hundred years ago. In 1912 someone in Indian Affairs had given permission for representative groups of Indians from reserves in Alberta to attend. Stampede organizers never expected such an enthusiastic response. "They never thought for a moment that the tribes would move en masse on Calgary. There were 2000 mounted Indians in the parade alone and the whole city was encircled by Indian tents and Tepees. Grant Campbell, Canadian Inspector of Indian Agencies hastened from Ottawa to take charge. There has never been another gathering and parade of Indians on such a huge scale since that time." noted Fred Kennedy.

It was a triumph for the tribes when one of their own, Tom Three Persons, a 25 year old Blood Indian from Fort Macleod, won the world championship bronc riding contest by vanquishing the powerful bronc Cyclone.

An Indian Village was set up at the first Calgary Stampede. It's been a major part of every Stampede since. Here visitors can directly experience Plains Indian culture. Tipis are open to the public. There are arts, crafts, aboriginal food, dance and drumming competitions, and a full scale pow-wow. An Indian Princess is chosen. To be eligible a young woman must be between 18-26 years and a member of the Treaty 7 First Nations. The Village also tells the history of those Nations and their place in today's Alberta. The strong vibrant Indian presence at the annual Stampede is a credit to Guy Weadick whose vision of the West included First Nations.

The original Calgary Stampede attracted entrants from across the United States; special trains came from Cheyenne, Wyoming, Pendleton, Oregon, and Spokane, Washington. Cowboys came from New Mexico, Arizona, Montana, Oklahoma, and Texas. And they came from as far away as Mexico. Pancho Villa even sent his best steer roper.

The Calgary Stampede offered something these experienced cowboys hadn't seen before – royalty. The presence of the British Royal Family didn't begin with William and Kate's 2011 honeymoon visit. Royals attended the first Stampede and they've come regularly ever since. H.R.H. the Duke of Connaught, (son of Queen Victoria), and his daughter Princess Patricia arrived to a cool and cloudy day, Sept. 5, 1912.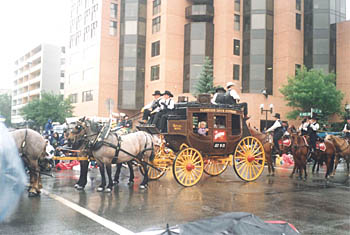 A Coach From The Klondike

Organizers hoping for good weather were disappointed by a cloudburst. The show was hastily moved from the centre field arena to the horse show building. Thousands of spectators, including the Royal party, marched through the rain to the new venue. They were soon settled, damp but determined, and the show continued. The Duke enjoyed it so much he returned to see the Stampede the next day.

Mother Nature grants no favours to Royals. On Oct 18th, 1951 the then Princess Elizabeth and the Duke of Edinburgh were treated to a one day Stampede event specially organized for them. The couple had asked if it was possible to see a part of the Stampede so organizers decided to put on a show of champions featuring the very best ropers, riders, chuckwagon drivers, and bucking stock. Indians from all the Southern Alberta reservations set up their tipis at the Indian village.

Weather was warm with balmy breezes. Unfortunately it changed over night. One day before the Princess and Duke arrived; sleet and snow made the centerfield and track a frozen mess.

On the morning of the 18th, shivering steers and horses turned their tails to the snow and biting wind. There was talk of cancelling the show but the Royal couple said they could stand the weather if the cowboys could. No cowboy could resist such a challenge. When the couple was driven to the grandstand in a stage coach, they joined a crowd of 16,000 chilly spectators who gave them a hearty welcome. The cowboys' superb exhibition was admired by the Duke, an excellent horseman himself. When they were presented to the Royal couple, he congratulated them on their expertise.

Princess Elizabeth's uncle, Edward V111, had a more extensive connection to the Stampede. In 1923 the then Prince of Wales, on the advice of George Lane, purchased a ranch in the Pekisko area. As owner of the "EP" ranch the Prince took an interest in the Stampede and offered to donate an annual trophy. Organizers decided the Prince of Wales Trophy should go to the winner of the bronc riding competition. The Prince, so the story goes, was taught to rope by Florence La Due herself. He was well thought of by the Stampede organizers and his neighbouring ranchers. When word of his involvement with Mrs. Simpson reached Alberta one taciturn rancher predicted a gloomy future. "It's not good." he said. "She'll wear the little fella down."

Prince William and his new bride Catherine Middleton wearing jeans and symbolic white cowboy hats on their 2011 visit reminded the world that young British royals have a long connection to the Stampede.

Visitors love the Stampede. What do Calgarians feel about The Greatest Outdoor Show On Earth?

Sally Saemerow is well qualified to answer. Born into a Kamloops B.C. homesteading/ ranching family, Sally spent thirty-eight years in Calgary working in offices of the petroleum industry. Sally, like many Albertans, is a bridge between the old and new west. She knows the difficulties that were faced by homesteaders and the technological skills required in the oil fields. Sally's part of the western transition: planning for the future while preserving the past.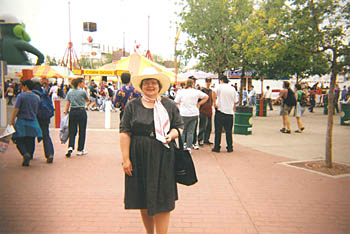 Sally Goes To The Stampede

As she describes it, "Stampede events are everywhere. Everything goes cowboy. Everybody gets into the spirit. There are banners at major intersections, square dancing in malls. Calgary's a city that knows how to party and it goes all out at Stampede time. It's hard to work; great if you have company though. "

"On parade day downtown workers have to be in their buildings before 6:30 a.m. After that the buildings are closed and locked. Most downtown businesses are closed. Oil companies generally gave their staff parade day off. Even after parade day it's not easy to concentrate when there's a band going down the street."

And there are bands! Marching band competitions are so much part of the event that a Calgary paper had a cartoon of a city worker phoning from the street, "Come quick, we've lost the entire band from Pocatello, Idaho in a pot-hole!"

Casual cowboy attire is almost mandatory, which can be hard on some people. One businessman was overheard in an elevator complaining, "I'll sure be glad when the Stampede is over. My legs are aching from wearing these cowboy boots!"

There are secrets only Calgarians know. Connoisseurs of food read the list of pancake breakfasts every morning, to choose the best. They pay attention to free entertainment. They watch the fireworks from Scotchman's Hill. The Hill, an escarpment on the east boundary of the Stampede grounds above the Elbow River, is considered the best viewing place, because it's high up, and it's free. "People get there early and plant their lawn chairs. Just don't plan on going to bed before ll: 00 p.m."

Sally praises the variety of events. "There's stuff for everybody. There are livestock shows: cattle displays; heavy horses, famous working horses, quarter horses and farrier competitions. Agricultural exhibits where city people learn about pigs and chickens and why to heed 'Watch Where You Walk' signs, displays of farm equipment. There are special event days: Heritage Day when seniors get in free, and Kid's Day. There's a midway and casino. There are concerts in the Saddledome, partying and music at Nashville North, free entertainment at the Coca-Cola stage. It's fun and attracts a lot of young people, but also has all the cultural events."

Calgary's light rail transit makes accessing the Stampede grounds simple though during peak hours passengers may have to wait for two or three C-trains.

Sally points out that in scheduling, as in bronc riding, timing is everything. In order to attract the best competitors the Stampede can't conflict with other major rodeos. Organizers have to consider Cheyenne Frontier Days in Wyoming, the July 1st Williams Lake Stampede, and, of course, July 4th, 'the cowboy's Xmas'

For Calgarians the Stampede isn't a once in a lifetime visit; it's a once a year event. "When it's over people heave a sigh of relief." Sally reports. But, like other Calgarians, she's proud of her city and what it represents. "We may be western, we may be country, but we drink lattes too!" The slogan, "Calgary, the heart of the new West!" gets her approval.





Other articles by Trudy Frisk