XMAS DINNER
Story & photos by Trudy Frisk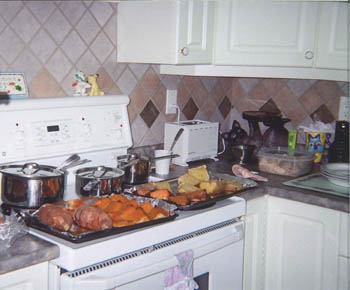 So we cooked everything.

I thought I knew my friend. That was before she invited my son and I to Xmas dinner. When we began planning the menu, I realized that 'Xmas dinner' means very different foods to different people. Dessert, for example. " Why an ice cream log? " I asked. "Ice cream's for hot summer days!" Not to her. To her an ice cream log spelled Xmas. She couldn't comprehend why anyone would cook, let alone consume, Brussels sprouts and cheese sauce. We simplified. We agreed to cook everything either of us considered traditional Xmas fare. The result was a many course dinner with days of delicious leftovers.

The truth is, Xmas dinner isn't just a meal, it's a way of connecting with family and friends, and evoking memories of the past. That's why serving traditional food, whatever your tradition, is so important.

In our family, even after we grew up, moved away and married, we all still came home for Xmas. Stuffing a turkey reminds me of my mother, my sister-in-law Shirley, and myself sitting round the kitchen table, chopping onions for the stuffing, laughing and catching up on the news. Ginger cookies aren't simply cookies; they're memories of opening the kitchen door to find the house filled with scrumptious aromas. Mother was renowned as a cook. For some years after Mother's death our sister, Linda, who inherited her culinary skills, sent our families packages of the same Xmas cookies Mother had baked. It was her way of preserving those family memories. We savoured them for weeks.


Xmas dinner at home usually also included several single friends, whose idiosyncrasies became part of the seasonal experience. Granville, a bachelor teetotaler, could never get enough of Mother's Xmas cake. No one spoiled the day for him by revealing that its' flavour was due to several tots of brandy judiciously applied.

Friends who came to dinner acted like family. Once, when the meal was over, and the table cleared, most of us moved to the living room. Only Shirley and Jim, the young Anglican minister, stayed in the kitchen, near the leftovers. Suddenly, over the noise of children playing, came the sound of a solid 'thunk' from the kitchen. We rushed in to see what was the matter. It seemed that Shirley and Jim had both spied a tempting piece of turkey and reached for it simultaneously from opposite directions. As they bent over, intent on the prize, their heads knocked together with considerable force. We found them red-faced, rubbing their foreheads.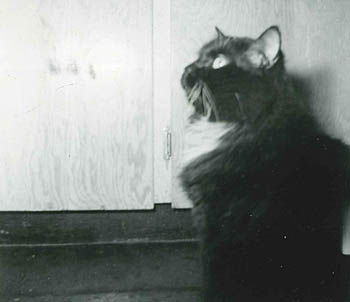 Peter waiting for his share of turkey.

Sitting on the floor, glaring at them was Peter the cat. Peter, who, as Linda once commented, "could hear a roaster lid rattle in China!", had heard sounds of turkey being disturbed, and thought, naturally, that the cat would have first choice. Tinned salmon, his traditional Xmas dinner could wait.

Some years we experimented with dinner. One Xmas my husband and I decided to impress the family with cherries jubilee. We'd successfully created it several times at our house, so we were confident. The family sat expectantly round the long table, awaiting the promised flaming treat. In the kitchen Ralph and I heated the brandy and struck the match. Nothing. Tried again. Zip. More brandy. More heat. Same old, same old. Still more brandy. Nada. It refused to light. We could hear querulous murmurs from the dining room. Fearing a full-scale storming of the kitchen, we ladled the cherry sauce over the ice cream and marched the dishes into the dining room, where we blamed the problem on inferior alcohol. No worries. Our liberal additions of brandy made the cherries so tasty, no one cared if they flamed. In its way it was a success, but the next year we reverted to shortbread.

The competitive spirit emerges at Xmas. Smoked oysters are a family favourite.
I learned, eventually, that giving every member his/her own eliminates the possibility of someone being stabbed with a fork when three people duel for possession of the last two oysters.

These events didn't diminish Xmas for us; they just added to our stock of "Do you remember?" anecdotes. Xmas might not have been perfect, but it was certainly unique and personal.

Xmas is a compromise between the ideal celebration we hope for, and the memories we cherish. May your Xmas be happy and your New Year bright.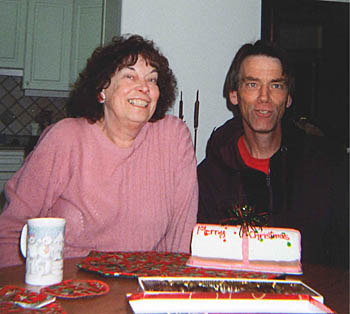 Trudy & Kurt Frisk with the ice-cream Xmas log.
Other articles by Trudy Frisk