"ALAN, YOU'RE NOT ON KINGSWAY ANY MORE!"
Story by Trudy Frisk
Photos courtesy of Alan Forseth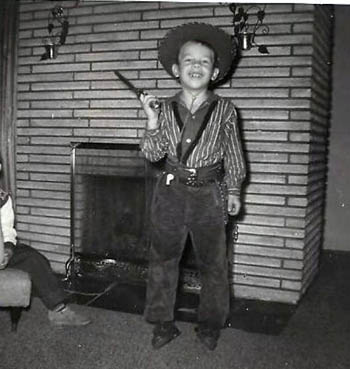 The Vancouver Cowboy

Until he was ten years old, Alan Forseth lived an idyllic urban life. His home, just off Kingsway, wasn't too far from Nat Bailey Stadium and Queen Elizabeth Park. His schools, Tecumseh Annex B, and Lord Selkirk, were located in interesting neighbourhoods. Nearby were a movie theatre, a store with well over a dozen slot-cart race tracks track and arcade games. "If you had to go to school", Alan remembers, "these were the schools to go to. There was also a Five and Dime store where a kid could buy a lot of garbage, er, treasures." Across the street from Lord Selkirk Elementary were a corner store, 'with real penny candy', and a tannery which sold little pieces of rabbit fur. A kid could have his own stock of 'wild' animal skins. The commercial bakery which sold day old doughnuts two for five cents completed a child's idea of perfection. He could have his sugar fix, race, and collect real animal skins, all while obediently going to school.

Weekend excursions downtown were for shopping in the variety offered by the Army & Navy Store or Woodward's. Woodward's occupied a whole city block. At Christmas people went just to admire the mechanized displays in the store windows.

There was more to city life than shopping. "We could go fishing. We'd take a stick and a string and a bent nail. We'd drop our line down the sewer drain and see what we could catch. Mostly it was paper or other sticks. We couldn't get bigger stuff through the grate.'

And, there was the pony. "Somebody in the neighbourhood would come by with a pony and children were allowed to sit on it. All the kids wanted to be cowboys."

"I didn't know there was any other kind of way to live. That's just the way we grew up."

That was Alan's life until he was ten years and a couple of months. Then his parents announced, "We're moving to Williams Lake. Your father has bought a radiator shop."
They packed up the house, loaded up the kids and moved.

"We arrived in Williams Lake in the dark of night. The next day I discovered I'd arrived on another planet. It was the first day of the Williams Lake Stampede!"

"A kid who'd sat on a little pony pretending to be a cowboy was all of a sudden transported to another place. Cowboys, horses and Indians were everywhere! The whole hillside at the Stampede was crowded with teepees and white canvas tents. From the Chilcotin we could see Bennett buggies and horses and wagons coming down the hill into town. After the initial shock, it was pretty cool"

"One of the first things we realized was that we could go anywhere we wanted and roam the whole valley. We lived in the 'old airport' subdivision. There were woods on both sides and an old wooden tunnel where we played war games. We could take our bikes to the park and be gone all day, no one worried.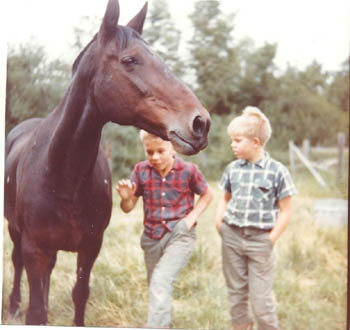 Queenie ... alan and brother Nick on right

One of the first things the family did in Williams Lake was acquire a horse. Her name was Queenie and she was twenty-three years old when they bought her. Queenie was boarded at he Stampede grounds. They could ride her behind the barns there or ride her out in the valley. Owning a horse offered new opportunities. Alan hooked the straps of two mail bags over the saddle horn and used Queenie to deliver the Vancouver Sun. The system worked well, but it didn't last. Subscribers didn't appreciate hoof prints on their lawns. So much for the Williams Lake Pony Express.

Alan's father had heard that horses sleep standing up. "He didn't believe that. He took Queenie home to find out if it was true. He staked her out in the yard and spent the whole night sitting up staring out the window waiting for the horse to lie down to sleep. "

Alan and Queenie were competitors in the Texas Flag Race, a barrel race with flags. "Regular barrel racing speeds of eighteen seconds are considered slow." Alan explains. "Queenie probably took a couple of minutes. Her fastest speed was probably a canter, not quite a trot. Nowhere near a gallop."

Queenie wasn't the family's only horse. Alan's sister, Helen, had plans for Sonny, a 'blondie-tan-coloured' quarter-horse. Helen tried to train Sonny in the English riding style. Helen dressed the part, wearing proper English apparel, including a pith helmet. "My brother and I undermined her training at every opportunity by galloping Sonny all over creation. " Alan pauses for a moment. "I think we really pithed Helen off!"

The Forseth family easily adapted to their new home. Years later Alan recalled, "The only thing I really missed moving from Vancouver to Williams Lake was a malt."

When the Forseths moved to Williams Lake only three thousand people lived there. There were board sidewalks on Oliver Street (the main street) and along parts of McKenzie Avenue. The shopping was very different from Vancouver. "All of downtown was pretty much family-type stores. Tony's Leather Goods, Borkowski's Men's Wear, Walkrite Shoes were just a few but all pretty much have passed into history."

"When I grew up, the kids I knew and went to school with, their parents were the ones who owned the businesses. You could walk through the entire downtown and you knew everybody. What fueled the economy then was the mills, logging and ranching. It's not that way anymore. "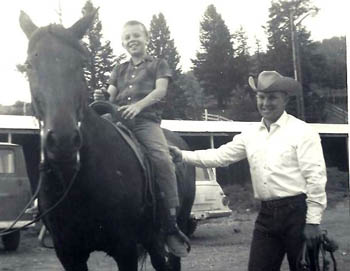 Johnny Drift standing -- Queenie was purchased from him

It was that small town feeling that helped Alan get his first job in radio, as a janitor in the Williams Lake station CKWL. Bob Leckie, station manager and part owner, gave him a chance. Alan worked his way up from janitor to turning on the church services Sunday morning, to a one hour air shift. When, eventually, he became a regular announcer who also did selling and production, he was familiar with the Cariboo.

It helped that he'd been playing in a country band. "We played all the little places; Clinton, Big Lake, Likely, Anaham, Riske Creek, Alexis Creek. We played on various stages in all the community halls. Most places don't have them anymore." When Alan did the Message Broadcast from CKWL, he'd been to almost all the places mentioned.
He knew that, to people in the Chilcotin, Williams Lake was a big city. It was a day trip to go from Black Creek to town.

Things have changed, but going to the Cariboo is still going 'home'. "Things are familiar, even though they're different." Alan acknowledges. "If I'd grown up in Vancouver, I would have probably been happy there. I didn't know there was any other way. But Williams Lake certainly had a tremendous influence on my life. "




Other articles by Trudy Frisk