ED PEEKEEKOOT-MUSICIAN
Story by Trudy Frisk
Photos courtesy of Ed Peekeekoot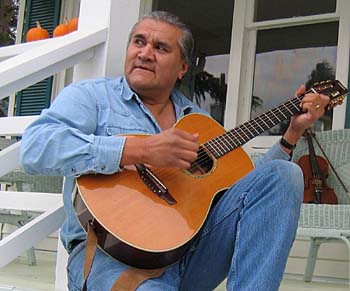 Whether Ed Peekeekoot is performing at the Kamloops Cowboy Festival or at a benefit for the Society for Community Living he treats his audiences exactly the same. "You treat them as well as you can, like they came to visit in your house. I try to make people happy and make them feel good. Hopefully they come out inspired."
Audiences are impressed by this versatile instrumentalist, singer and composer. Ed plays guitar, banjo, fiddle, dobro, drum, harmonica and Native American flute. His repertoire ranges from rollicking dance numbers to thoughtful songs of the land. His work is a masterful blend of country and western, evolving aboriginal music, and unexpected elements. A guitar solo, for example, may be reminiscent of the classical playing of Julian Bream or Andres Segovia. Ed's music reflects the many paths he has explored. "Music," he explains," is a bit of everything that has influenced me throughout the years."
It began when he was a child in Saskatchewan. His mother, who played guitar in an old time dance band, took Ed with her to dances. They hitched up a team of horses, wrapped the instruments in blankets to keep them warm and away they went. His uncles played fiddle and guitar.
His mother got him his first guitar. It was hanging on the wall in his uncle's house. Ed would stroke the strings. He always asked for it. Finally his uncle just gave it to him. His mother open tuned it, showed him how to play the first three chords, and gave him a butter knife to slide along the strings. He had his first slide guitar.
Ed jammed with his uncles on his guitar. They helped him learn the guitar but not the fiddle. They thought if they could pick it up by themselves, he should, too. His Uncle Melvin, an exceptionally good fiddle player, chummed around with Metis friends who played a lot of Metis fiddle tunes. Ed found the fiddle more difficult than the guitar to learn so he took his violin out into the bush to practice. He got the bowing down but worked hard to learn the fingering. "Nobody taught me."
In fact Ed has never had a music teacher. He never learned scales or musical theory. When he was young he thought everybody learned to play songs by ear. He usually learned a song right away. He'd listen to his uncles, think "That's how they did it!" and play. He refers to his songs as " ear paintings". "Each step was an adventure. I valued each different stage. Learning new chords was so exciting."
When Ed was sixteen his grandfather, hoping to find opportunities for the family, moved them from the Ahtahkakoop Cree reserve in Saskatchewan to the small town of Clearwater in B.C. Ed went to work in a lumber mill there. His uncle had already made him aware there was another guitar player he should listen to, Chet Atkins.
Through Chet Atkins Ed was introduced to classical guitar, jazz and pop. He was fascinated with Atkins' style which "sounded like two guys playing." With his very first paycheque from the mill, Ed headed for Kamloops to a music store where he bought an electric guitar. " It was do or die." Ed remembers, of his decision to follow Chet Atkins' finger-picking style.
Ed joined The Trophy Mountain Boys, a Clearwater band which played for weddings, anniversaries, and fund raisers at the Elks or Moose Halls.
Band leader, Davy Davison, an accordion player, took Ed under his wing, like an older brother, Ed says. The band had a bass player and a drummer. Ed played lead guitar and began singing then. Clearwater residents who heard the band still speak with affection and admiration of Ed's gentle personality and exceptional talent. As well as having a play list suitable for various occasions, the band had to be adaptable. During one snowmobile dance a fight broke out at the back of the hall. Tables were overturned. As the fracas made its way toward the stage, musicians planned how to protect their instruments should the combatants reach them. Fortunately calm was restored.
After ten years Ed married and moved to Vancouver. There he got his own country-style band going. They became part of the musical scene in downtown Vancouver. It was an eye-opener for a young guy from Clearwater. Granville St. was a lot different from the Elk's Hall back home. " There was nobody there who was normal.", Ed recalls.
He points out, though, that a song-writer has to have an open mind, be aware of ideas, any ideas. " You have to be aware of looks, pay attention to something you may overhear, whether it's on Skid Row or in a posh hotel. When people are really down and out, strong emotion comes out, you see into their spirit, their soul. People just blurt out something. That's where great songs come from. They come from the soul. If it moves your spirit, it will move others, because we're all connected."
"A lot of people don't observe, but an artist is aware of surroundings and their beauty."
Ed remembers being on a ranch in the Cariboo. " There was the smell of hay, horses, and leather. The sun was going down. I could hear a rumbling. Suddenly, over a huge hill, I could see dust coming up, then I could see a crowd of horses running. I like the sound of the horses calling, neighing. An artist is more aware of that kind of stuff, in fact you're a sucker for that kind of stuff! Being aware is a natural thing; it's not work."
Ed points out that cowboys and traditional Indians had the same kind of life. " They were one with the land and the elements. They were tough. Indians started owning cattle because they knew the outdoors. They were natural cowboys. Check out the buffalo hunters, riding with one string rein. "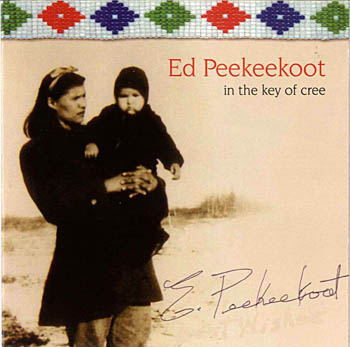 For most of his career, Ed has performed as part of the mainstream country music community. Recently he's reclaimed his First Nations Cree heritage. His CD "In The Key Of Cree" released in 2006 was nominated in 2008 for an Aboriginal People's Choice Award for its Cree world view.
Ed's great-great grandfather was one of the generation that got put on reserves. Where there had been no fences and big cattle drives, suddenly there were restrictions. He was angry and resentful. Ed's great grandfather was still bitter. "He didn't want the white man's ways. He certainly didn't want the white man's music. I'm glad my grandfather didn't listen to him." Ed says firmly. "We have to live and work together. Our children and future generations are all going to have to work together."
Ed's music, as well as his life, is an example of the influence of cultures enriching each other. He traces the intertwined effect of previous generations and races on country music and remembers country music's roots. One of his proudest moments was playing 'Freight Train' for its composer, Elizabeth Cotton, at a workshop in Puget Sound. Cotton, then in her '90s, praised his performance of her classic song.
"Sadly", says Ed, " The era of the guitar instrumentalists died out in the sixties; now there are just singers. There are still great instrumentalists out there, but nobody hears them."
Ed is keeping that instrumental tradition alive. He has twice been nominated for Instrumentalist of the Year by the B.C. Country Music Association. Ed has had other honours. Ilsa Greenwold, instructor at the Julliard School of Music, wrote, "You definitely captured and expressed the sounds of nature, such as the wild animals and the howling wind through your musical interpretations. I find it difficult to illustrate the relationship of music to nature. I have studied music in Europe and Japan, but never have I experienced such music as your performance."
From his home in Crofton, B.C. Ed continues his musical journey. May 28-30, 2010, he will be appearing at the Canadian Rockies Cowboy Festival in Nordegg, Alberta. August 6-7th, he will be at the Prince Albert Exhibition and Summer Fair in Prince Albert, Saskatchewan.

Other articles by Trudy Frisk