FRIENDS WITH HORSES
Story by Trudy Frisk
Photo courtesy of Carole Bellos-Carroll
Kerri Colquhoun got her saddle for Xmas as a gift from her parents. "It wasn't wrapped. I looked under the tree and there it was!" Her sister gave a Navajo blanket as a saddle blanket. Earlier her family had given her a bridle as a birthday present. Now she had her saddle. It was a wonderful Xmas!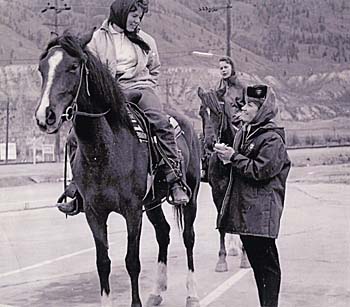 Good service at Kamloops' first A & W (c. 1963)
Foreground: Kerri Colquhoun, on horseback.
Car (horse) hop: Carole Bellos.
Background: Rae Campbell on horseback.

Kerri had only had her own horse for nine months. She'd been riding bare-back; "Which was okay with me!" she emphasizes. She always loved riding. The first time she rode, in Penticton, she'd saved up all her allowance and talked a friend into going with her to rent horses. "Her horse moved and mine just stood still-for the entire hour-in the corral!"

It didn't discourage Kerri. The summer her family rented a cabin at Okanagan Falls she rode a few times, on more co-operative horses. Her dad wouldn't let her ride with a saddle until she could ride bare-back. Bill Colquhoun's thinking was, "If you learn to ride bare-back, you learn balance and the rhythm of the animal, and your feet won't get caught in the stirrup if you fall off."
Kerri was fourteen when she got her own horse, a pregnant mare. She and another horse were traded in on a truck at Dearborn Motors in Kamloops. Gordie Gamble, owner of the dealership, remembered the Colquhouns were looking for a horse. He called Bill Colquhoun to see if they were still interested. Interested? Kerri only had to be asked once. They were off to see the horse. April Hannah was a registered three quarters Arab and one quarter hunter thorough-bred , with a sense of her own worth.

Kerri's dad put her up on April's back. "She crow-hopped and I went flying." Kerri thought her mother would say that was the end of it, but she didn't. Kerri had other worries. "Dad said we couldn't have the horse unless we could keep it at home. We lived in a sub-division in Kamloops. I didn't realize Dad still owned a couple of lots behind the house and past that it was all Crown land." Kerri had her horse.

Carole Bellos-Carroll's Xmas memories involve horses, and chores. The Bellos family owned the Willow Ranch, located between Kamloops and Merritt, B.C. As Carole recalls, "Every Xmas, before we could open presents, we had to feed the bloody cows! We'd have breakfast, then go out with the team to feed." The Bellos children took an active part in Xmas preparations. One year she and her brother climbed the hill above the ranch house to get a Xmas tree. "With the dull axe we had, it took all day to cut it down. We dragged it home down the hill. By the time we got there it was bare on one side. Mom just stuck the bare side against the wall."

Ranch children had freedom, along with their responsibilities. Carole recalls riding along the gravel road from the Willow Ranch, past Shumway Lake, to visit friends Frank and Lil Frolek who lived at the bottom of the Cardew Hill. Today that narrow, winding country road is a veritable speedway. When Carole lived there it was a pleasant route for children and horses to travel. No one worried, either, if the children went for long rides on the ranchs; adults assumed that both kids and horses were capable and confident. Carole's favourite horse was a palomino mare.

Along with the cattle, Carole's family raised quarter horses for barrel racing. There were always horses available.

Kerri and Carole met in junior high school. When Carole invited Kerri to spend weekends at the ranch, Kerri was happy. She remembers it as an introduction to matters from which many children her age were sheltered. "Being around the animals, having friends who were 4-H'rs gave me more insight into life and the cycles of life." Birth, death and stages in between such as branding, dehorning and castration were all part of normal ranch life. This meant Kerri had information her siblings did not. One day the topic of castration came up. Kerri's two older sisters called her in. "What's castrating?" Kerri tried to explain in genteel terms. Her sisters simply didn't understand. Finally she just blurted out the truth. There was a howl of outrage from her sisters. "Mom! How come she knows that and we don't?"

"It was very good for me, having Carole as a friend; I tried more things than I otherwise would have and gained confidence." Kerri recalls. The two girls went riding out in the hills, exploring along the old brigade trail, finding the stone walls and fences of previous homesteaders. "Our imaginations just went riot" Carole says.

Confidence involved more than horses. The Willow Ranch is where Kerri drove for the first time. Carole's parents weren't home. Carole drove the ranch truck from the ranch house across the bridge over the creek to the pump-house, circled around back to the house and told Kerri it was her turn. Kerri got into the old standard truck, stalled it a few times, finally got it going and guided it across the bridge. The bunk-house was more or less straight across from the bridge. Off to the right was the barn. Two ranch-hands who'd come out to see the fun were standing in front of the bunk-house. Kerri knew she had to turn before she drove straight between the two of them. Finally she got the truck turned headed for the barnyard gate and fence. At last she wrenched it around and got it back across the bridge, where she was filled with guilt and angst. Carole's brother, Peter, got in and drove the truck across the bridge again where it stalled and refused to start anymore. The next morning, Tony Bellos had to get out the tractor to retrieve the truck.

Eventually the Bellos family sold the Willow Ranch, (the adventure of the truck was not the reason), and bought property in Knutsford. Mr. Bellos brought the whole horse herd down the highway from the ranch to their new home outside Kamloops.

Kerri lived in Valleyview, just down the open hills. People in Valleyview accepted horses.


Carole and Kerri were now near neighbours, as horses travel. "As kids we could ride our horses in the city limits." One place they rode was to the very first A. & W. in Kamloops where Carole worked as a car-hop. "No one ever questioned our mode of transportation." Kerri and friend Rae Campbell had no trouble being served their usual hamburger and mug of root beer while on horseback. One out-of-town customer had never seen such a sight. He insisted on a photo of Carole taking their order in front of the restaurant. Years later that photo is a treasured memento.

Kerri's mare was a lady-like horse. "If she saw we were heading for the A. & W., she relieved herself long before we got there. " April Hannah was very conscious of her appearance. "I rode her once in a parade in Arab costume. We went past a long store window. She saw herself in the window and got all proud of herself." Kerri remembers. She didn't like water though. "If there was a puddle on the road, she didn't want to walk through it. She'd rear up and say 'no way'." But, she liked to work. "If she felt we were working she was very serious; she didn't spook at anything if we were moving cattle. At first neither of us really knew what we were doing, but we enjoyed it. "

April's foal was born about three weeks before her big sister Sheila's wedding. "The foal stole some of the thunder, the reception was in the back yard, the young foal was prancing about and looking over the fence. " Kerri had been preparing for the birth. Vet, Lorne Greenaway, told her what signs to look for and she watched faithfully. One day she hadn't time to check the mare before she went to school so she delegated to her mother. Helen Colquhoun all dressed formally for a coffee party, went about looking through slats in the fence. Finally she began to laugh, realizing she didn't know how the mare's teats looked normally so how would she know if they were different, ready for birth? When the foal was born Kerri's mother wrapped blue ribbons around cigarettes and passed them out at a coffee party. "It was an event."


Kerri and Carole had been meeting, on horseback, in the hills between their two homes. When the foal, Major, was six months old Kerri decided to take him and ride the mare out towards Carole's. They got half way up in the hills and decided to keep on going. She was forced to leave both horses at the Bellos over night because it would be too tiring for the little guy to go back home. The next day her dad drove' her up to retrieve the horses. She rode the mare back home with the colt trotting along side.
The parts of Kamloops where Carole and Kerri rode freely are now covered by houses.
.

Carole's life changed when she moved to Knutsford. There was still 4-H, but there were fewer horses. And, there were skiing and boys. Both Kerri and Carole went to the University of Victoria. After that their lives went in different directions in different cities. When Kerri was living in Vancouver she sold her horses to a family in Barnhartvale.

Carole came back to Kamloops, where she married and raised her four children. About fifteen years ago she began to get back into horses. It all started with Cattle Drive. In 1992 Carole got involved in running the office; in 1993 she went on the drive. She was also involved in a short TV documentary about Cattle Drive.
Since she had no horse of her own, she used a friend's horse. "I realized how much we took horses for granted as kids. We'd play on them. I'm so glad we had the opportunity to do everything we did with the horses. "
"I began riding neighbour's horses, chasing cows. One time the neighbor put me up on a horse that only he had ever ridden. Even after years of being away from horses a lot of the skill was still there. It took a long time to get my legs back. Hearing a trainer talk about taking two years to get to know the feel of a horse, I remembered the training my father's horses had and realized what a chance I'd had for mentoring if I'd been really interested." Carole's always been amazed at stories about the distances old time horsemen travelled. She thinks the long trot is probably the gait they used. "The horse has to work but doesn't tire out as it would galloping. "

Carole went through a couple of horses before deciding on her mare Robyn "It's nice to have a horse to jump on and go. It gives you such freedom to travel. I can have a lot of fun with her." She and Robyn don't take unnecessary risks. "We do recreational riding; chasing the odd cow." As for raising horses, "It's a young person's game in my opinion."

Kerri and Carole always stayed in touch over the years. They're now back in the same city, where they frequently meet to share memories and the spirit of equine adventure.





Other articles by Trudy Frisk