THE CHANGING FACE OF 4-H
Story by Trudy Frisk
Photos courtesy Pat Philip and Janice Rodgers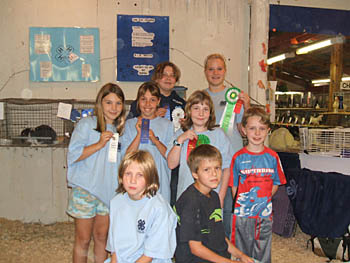 Blaine Frisk had a plan. As he stood guard over the small animal barn at the Barriere Fall Fair, he explained what to do when the animals get out of their cages. "For rabbits and guinea pigs, close the barn doors and corner the animal. For chickens it's best to use a fishing net."
Rabbits? Guinea pigs? What's happened to 4-H? Isn't it groups of rural kids raising and showing their horses, beef animals or sheep?
That's the 4-H Pat Philip knew. Raised on the family ranch, she joined the calf club as an eleven year old, along with the kids of a number of other local ranchers. They got their animals in March and kept them until the Provincial Winter Fair in November.
Belonging to 4-H was part of living on the ranch. Members did all the practical things; cleaning out stalls, halter breaking their animals, grinding chaff. When they came home from school, they'd change, then feed their cattle. They kept detailed records of what their animals ate and how much they weighed. Classes in showmanship taught them how to present the animals; how to use show halters and curry combs, what to do with a show stick, how to twist the tail to get the animal to turn, how to shave and fluff the face and tail.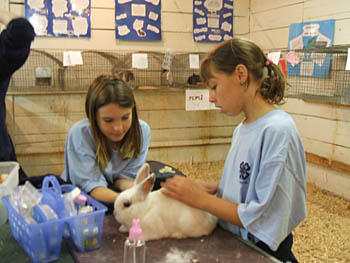 They paid attention to details. At one June rally Pat Philip and Ada Payne demonstrated how to fill in a shipping form. At the Winter Fair members listened to the auctioneers and noted how prices varied; some years the cattle were actually sold at a loss.
Once a month there were meetings at the Knutsford hall where members took their records of their animals. On field days 4-H members learned to judge livestock themselves, giving their reasons for their placement of the animals. Official judges then marked the 4-H judging cards and gave them back. Pat's dad, Warner Philip, was one of B.C.'s top judges and her uncle Russell Philip judged at the winter fair. In spite of that she and her brother and sisters didn't feel any pressure.
Although there were teams, there wasn't fierce competition. Individual effort was rewarded and every 4-H member encouraged.
Animal husbandry, Pat recalls, "was a field in which you didn't need an Mrs. degree. Boys and girls were treated equally."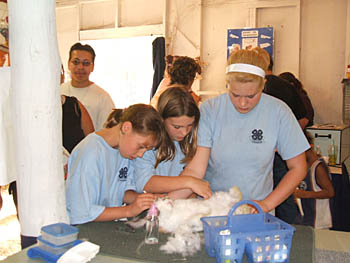 4-H was something Warner Philip, who was very active in the B.C. cattle industry, was able to do with his kids.
For Pat the hardest part was selling her animals. "At first they became pets. After a few years, I learned to distance myself from them." The Black Angus has always been Pat's favourite. She liked the Toronto Maple Leafs, too. No surprise that her calves were named, Keon, Duff and Mahovlich.
Pat always enjoyed the social aspect. The big event of the year was the Provincial Winter Fair when 4-H members got a week off school to attend. It culminated in a banquet, "with everyone all dressed up", Pat remembers, and awards.
That, with a few exceptions, is the 4-H Wendy Frisk remembers. As a girl growing up in Mamette Lake, she raised beef, sheep, and goats. "Every fall, I'd be standing in the sale ring bawling and saying goodbye to my animal. Every spring, I'd be out getting another calf."
She took pride in seeing local stores buying 4-H beef and selling it in their community.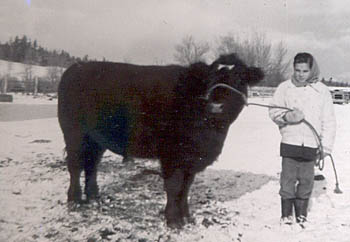 Blaine, Wendy's husband, had one agricultural experience: riding a horse. "And, it wasn't a good one!"
So, he wasn't sure about 4-H. But, "Wendy's pretty persistent in trying to change my mind. I really enjoyed it when our kids were in it and still enjoy it now that the kids aren't here.", says Blaine who books his holidays to coincide with the Barriere Fall Fair and the Kamloops Provincial Fair. Their three sons, who were in 4-H for seven years, are now grown and gone, but Blaine and Wendy continue helping other people's children.
Blaine thinks 4-H is valuable in many ways. "It teaches kids about things they probably didn't know before. A 4-H project is not like an animal you can just pet and ignore. It's a year- long project. There should be more public awareness of 4-H. We always try to get the public out. We try to get new members. Recently we got schools to have field trips so kids can see projects they might not have seen before. Kids supporting each other by working together on projects is a big thing in 4-H. There are family teams all working together."
When Wendy and Blaine's sons got involved in 4-H there was one big difference from the traditional projects. Where they lived there was no room for large animals so the boys raised rabbits. "The focus has changed, "says Wendy, "from having the biggest of breeds and produce to teaching youngster to be productive members of their community."
One of the most influential advocates of enlarging the 4-H tradition is Doug Haughton, a man whom Wendy describes as "dedicated to 4-H".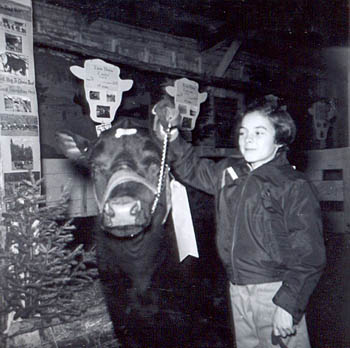 The Haughtons have ranched in B.C. for one hundred years. Doug sees that ranching and the rural lifestyle is changing radically.
"We have to look beyond the traditional livestock and expand our boundaries", Doug insists. "It brings in not just the rural crowd; it brings in the urban people we want to attract to the Fair."
In 1988 Doug, as Chairman of the Annual Provincial Winter Fair was instrumental in getting the small animals accepted as legitimate 4-H projects in the Fair. "It's not the specific projects that matter." Doug continues. "It's the value put on life, caring for animals, whether they're rabbits, steers or lambs; caring for something other than yourself." There are other factors, " The small animal projects take less financial outlay than that for a steer, but provide the same benefits."
Among those benefits are interacting with people, getting used to being out in front of a crowd doing demonstrations, and away from video games, computers and cell phones.
Doug says kids who've been in 4-H are involved in their community, they can make decisions for themselves, have a sense of responsibility, help others, and are comfortable dealing with the public.
"It's the neatest thing to watch, on a walk down Lamb Lane where the kids are trimming their sheep." One year CFJC TV came to the Fair, expecting to interview 4-H members with their steers. Instead Doug took the TV crew to interview the kids with rabbits, but he didn't tell the kids CFJC was coming. "It put the kids on the spot but they handled it well."
"Most people who see a kid with a steer on the 6:00 p.m. news won't relate. They can relate to a kid with a rabbit or cavie. Rural communities are dying so 4-H programs have to reach out into the urban community."
Doug's not giving up. "The big animals may dwindle, but 4-H will stay intact."

Other articles by Trudy Frisk