TRAVELS WITH SCOTTY
Story by Trudy Frisk
Photos courtesy Ron Simpson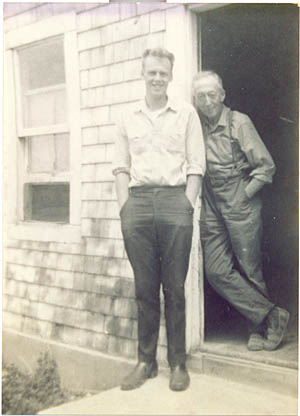 Ron and Charles (Scotty) Simpson, 1963

Charles (Scotty) Simpson may well have created the first truck and camper, with one small twist. Scotty's invention was moved by the original horse-power, two actual horses.

Charles Simpson was born in Rothes, Scotland on July 22, 1901. Rothes is the ancient fiefdom of the Leslie family who castle dates to the 11th century. Today, as in Scotty Simpson's time, Rothes is famous for its distilleries. Neither history nor commerce enticed Scotty to stay. As a young man he emigrated to Canada with his wife, son and daughter, settling eventually in Creston, B.C.

Scotty was a multi-talented man says Ron, his youngest son. "He was an excellent carpenter, he could build anything. He could handle animals, and he was a fine musician who played both bagpipes and accordion. He loved fishing and just being outdoors."

In the summer of 1932 Scotty decided the family was going to see a lot more of the outdoors. Times weren't good in Creston. He thought if they could get to the Cariboo there might be more work. Getting there was no problem for a clever man like Scotty.

Ron was born later, but he heard the story of the adventure from his Dad.

Scotty got an old truck frame with rubber tires. On the back he built a tidy wooden camper, finished with cedar shakes. He added a small wood stove and chimney, harnessed his two horses to the front of the truck, tied two cows on behind and away they went; parents, livestock and two teenaged children.

Naturally the horses couldn't go that fast. Sometimes they'd be lucky to make eighteen miles a day. It took two and a half months to make the trip from Creston to Quesnel. It didn't matter. As Ron points out, "They weren't in any hurry. They were living the good life. No TV, no radio, all you needed was something to hit mosquitoes with."

Scotty and his family had time to enjoy the country and get to know the people. They adapted as they went along. Scotty halted his team at the top of a long hill heading down into Westwold, concerned about gaining too much speed. He noticed a l2 x 12 timber by the side of the road. He wrapped a chain around it and dragged it behind to serve as a brake. As he rolled along a police car chugged up the hill and the officer waved to them. At the bottom Scotty unhooked the timber and left it by the side of the road.

Most of the roads they used were dirt roads which gave the animals no trouble. Near Kamloops they encountered pavement. The cow's hooves, unaccustomed to the hard surface, began to split. On a high spot, now the official Kamloops lookout, Scotty stopped, made camp and lit a fire. He heated regular horseshoes, bent them in half and nailed them to the cow's front feet. These improvised mini cow-shoes made a great difference. In Cache Creek, though, Scotty decided the cows weren't working out as well as he'd hoped and he sold them.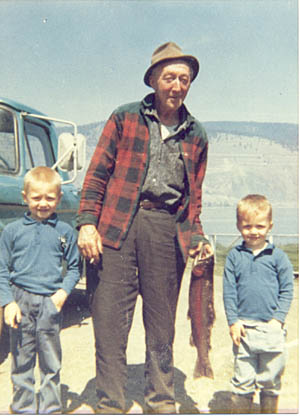 Charles Simpson with his grandsons Bradley & Brian

There was hardly any other traffic on the road. Sometimes they'd only see one or two cars a day. They'd stopped to rest under a big pine by the road at the Cherry Creek Ranch when Scotty observed a car turning in. Being a polite fellow, he opened the gate for the driver who continued through. In a short time the driver returned with a sack of potatoes, a sack of onions and four dozen eggs for the Simpsons.

Traveling slowly Scotty had lots of time to scout for good fishing spots. He found one at 100 Mile House. At that time the town consisted of a livery stable and a roadhouse. Scotty parked his outfit and got everyone settled, then walked into the trout stream from the gravel road. He was happily engaged in his favourite sport when a gruff voice behind him said "Ahem!" He turned and to his surprise found a fellow wearing a pancake hat and tweed jacket standing there. His tweedy visitor was Lord Cecil, an English peer, owner of 100 Mile House and most of the nearby land. Lord Cecil informed Scotty that he was trespassing. "I'm very sorry, sir.", replied the ever-polite fisherman. Lord Cecil thought for a moment. "Well, as your punishment, you and your family will have to stop by the roadhouse and have breakfast.

The trip ended at Alexandria, beyond Quesnel. There Scotty built a house of upright ties. It wasn't the end of traveling, just the end of that trip. Over the years Scotty moved to the coast, joined the Home Guard after being declared medically unfit for the Army, returned to Alexandria where he built another house, then back to the coast again.

:"He was always prim and proper no matter what." Ron says. And he never lost his love of the outdoors.

"He always had a car and he always camped out with his little stove and tent. When he visited us in Savona, he preferred to camp by the river, rather than staying in the house, because he liked fishing and there he was right beside it."

He shared that love of fishing with Ron and Ron's two sons, one of whom, Brian, now has his grand-father's treasured fly-rod.

When Scotty set out with his two horse powered truck and home built camper, "He was just doing a normal thing." Ron insists. No one bothered about it. Ron contrasts the freedom of 1932 with the fuss around a recent movie shoot at Savona. "There were police cars, flag people, tape and the highway was closed in one direction. "

Most of the roads Scotty and his family traveled have vanished now, under new highways, or survive only as disconnected fragments bypassed by development.

Scotty could always tell what was important and what wasn't. One of his poems sums it up:
"…We have hiked day after day for many a mile,
Through forest & river we've aye had a smile.
Those days we will remember, it was
Fun & worthwhile.
And I know I'll remember till I make that last mile.

We have traveled the country up hill
& down dale.
We have forded the rivers & over the swale,
The grouse that we hunted & also the deer,
These are memories that I'll always hold dear….."





Other articles by Trudy Frisk