Trevor Schubert: Descendant of Pioneers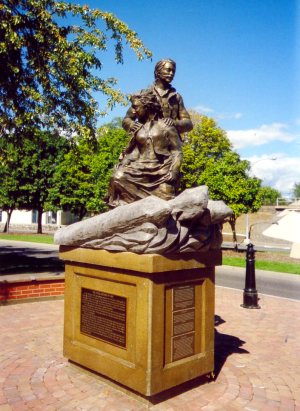 Statue of Schubert family Kamloops City Hall.

TREVOR SCHUBERT : DESCENDANT OF PIONEERS

Story and photo of statue by Trudy Frisk
Photo of Trevor Schubert courtesy T. Schubert

You don't expect history to come along and shake you by the hand. So, I was surprised when a tall distinguished gentleman having coffee at the next table stood up, held out his hand and announced, "I'm Trevor Schubert."

The Schuberts are famous Canadian pioneers. In an era when most exploration was done by men, the Schuberts traveled as a family. They were part of the Overlanders, the first settlers to travel from Fort Garry, (now Winnipeg), to the B.C. goldfields by land. By the time they landed at Fort Kamloops on Oct. l3, l862, Catherine and Francis Augustus Schubert, with their three small children, had traveled across the continent by Red River cart, horseback, river raft and foot. On Oct. l4th, the day after their arrival, Mrs. Schubert gave birth to a daughter, Rose, in a tent hastily erected in four inches of snow.

Years later Augustus Schubert II, who was six during the trek recalled the "never-ending squeaks and groans of the Red River carts."

Actually the journeys of Catherine and Augustus didn't begin in Fort Garry, but in Europe. Francis Augustus Schubert, born in 1826 in Saxony, emigrated to New York in 1854 seeking a better life. Catherine O'Hare, later to become Mrs. Schubert, emigrated from County Down, Ireland to New York in 1850, leaving behind the starving Ireland of the potatoe famine.

Catherine and Augustus met and were married in Springfield, Mass. in1854. The next year, following the advice of Horace Greeley, they went west to St. Paul, Minn., where their first three children were born. In the fall of 1860 Catherine surprised a Sioux brave attempting to kidnap baby James. Augustus grabbed an iron poker and, catching the brave before he could escape, beat him. The next night forty Sioux warriors surrounded the Schubert house demanding Augustus give himself up to them. They made threats against the family's lives. Several nights later the Schuberts and two other families loaded whatever they could on packhorses and headed north. They arrived at the Red River settlement in the late fall of 1860. A few months after they arrived the settlement on the American side of the river was flooded. The Schuberts moved to Fort Garry on the Canadian side and settled in St. Boniface.

In 1862 the Schuberts decided to join the Overlander trek to the Cariboo gold fields. Overlanders came from Montreal, New York and many Ontario communities. All were men except for Catherine Schubert and her three small children. Never under-estimate a woman's influence. "Great sympathy was manifested for the brave and devoted mother of those three children" wrote A.L. Fortune, a fellow Overlander. "Her presence in the company helped cultivate a kindly and more manly treatment of man to man."

In 1863 the Schuberts moved from Kamloops to Lillooet where they took up land nearer to the gold fields of Barkervilled. Augustus prospected every summer while Catherine and the children ran the farm. In 1877 F. Augustus left the Cariboo and pre-empted land at Round Prairie near Spallumcheen. Catherine and her two daughters moved to Cache Creek. For six years, she was matron of the boarding school there.

By 1883 the Schuberts were reunited at Round Prairie. Their influence was felt throughout the Okanagan. In 1885 Augustus Schubert donated an acre of land for the first school. He and his son, Augustus II completed building it. The new school served as a church on Sundays. Augustus II was on the first Board of School Trustees. The Schuberts were active in their communities. They became Reeves, Councilors, teachers, business people and Justices of the Peace.

On July 27, 1908, Francis Augustus Schubert died at Armstrong, B.C., at the age of eighty-two years and four months. Catherine Schubert died on July 18, 1918 aged eighty-three years and three months. On July 1st, 1927 a memorial to her unveiled at Armstrong saluted ".a brave and notable pioneer. Erected by her friends and admirers throughout B.C."

It's not the only tribute to this remarkable family. Vernon has its Schubert Centre. A venerable log home at the historic O'Keefe ranch is the original Schubert farm house. (The farm itself remains in the Schubert family.) In front of Kamloops City Hall is a statue showing the Schubert family arriving at Fort Kamloops on their raft. Schubert Drive can be found along the North Thompson River paralleling the route the family took. And the Overlander bridge joins the communities of North and South Kamloops.

In Trevor's childhood his grandfather Augustus Schubert II, who was a boy of six during the Overlander expedition, came to live with them. "What was it like", I asked, "growing up as one of this historically famous family?" Trevor gave a soft, deprecatory chuckle. "It was nothing special. In school it was hardly mentioned. There were a lot of other old-timers around. They'd call to see my grandfather. They'd sit and chat and have a few drinks. Afterward he'd tell me about them. "

Like his forebears, Trevor Schubert has been involved in major events of his time, although they were a world away from his childhood on the farm, where they raised cattle and grain and each kid milked two or three cows. Trevor went to school in Armstrong.

A month after he graduated from high school in 1941 he was in the Air Force. Within a year, in June 1942, he was in England. "You can imagine what London was to me, right out of a country school!"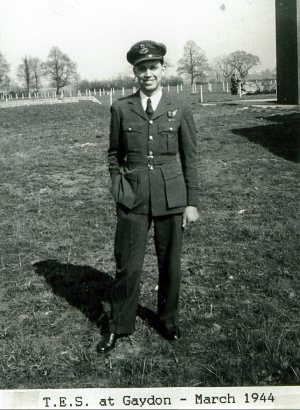 Trevor Schubert - Gaydon Air Base March 1944

As a Fl./Lt. in the RCAF, (Bomber Command RAF 196 Sqdn., RCAF 431 Sqdn.), Trevor flew two tours over Germany, the first in Wellingtons, the second in Lancaster bombers. Survival rate among airmen was 30% on one tour, 16% among those who did two tours of twenty-five to thirty trips per tour. In between his active service, Trevor instructed wireless operators at a base in Elgin, Scotland. After a year training others he was anxious to get back in the air. He recalls 1943 as a particularly bad year for U-boats.

Threat of U-boats didn't stop him taking a month's holiday in August 1944 to return to Vernon B.C. to be married. His fiancÚ, Jean Emeny, was also the descendant of pioneers who settled on a ranch near Enderby. It was worth it, Trevor thought, to take the Queen Elizabeth across a submarine-infested North Atlantic to New York, and journey by train across the continent, to come back to marry Jean and see home again.

During his last tour Trevor's crew was among those who made a ten and one-half hour flight to a target they'd been told was vital to the war effort - Dresden. Not until forty-five years after the war, when he was researching Schubert family history, did Trevor know that his great-grandfather, Francis Augustus Schubert was born in Dresden.

Trevor enjoyed the Air Force life. "We weren't restricted with a lot of parades," he recalls, "there was more freedom. And you went up in the ranks quite fast. "

When the war was over Trevor returned to B.C., Jean and a new profession. His skill with math and accounting won him a post as Government Inspector monitoring payment of the provincial sales tax. He was based first in Vernon, then, after 1954, in Kamloops. His district stretched from Blue River, to Quesnel, Merritt, Lillooet, and Salmon Arm. Much of this country was familiar to his pioneer great-grandparents ninety-two years earlier. They'd rafted past the present settlement of Blue River, lived in Lillooet , Quesnel and Kamloops , and knew Salmon Arm well.

Trevor has pleasant memories of those days. "I could set my own time. And it was interesting; I dealt with every sort of business and type of person" It meant keeping in touch with all vendors. "Usually when I'd stop at a gas station, the owner would know of somebody new and I'd call and see them." He had the authority to take transgressors to court of behalf of the government, but, generally got along well with people. "It all depended on how you treated a person. "

In the 1950s the country was growing and changing, but paved roads were still a dream. Reality was rough gravel roads in the Cariboo where Trevor traveled a week out of every month, and two hundred miles of gravel road in the Chilcotin west of Williams Lake. It was all just part of the job.

Retired in 1981 Trevor still keeps up with some of his friends from that time, such as Ray Scott, whom he first met when they were both traveling the dusty Cariboo roads in the 1950s.

When he's asked what gave his great-grandparents Catherine and Augustus Schubert, the courage to leave two countries, the initiative to take up new careers, and the influence to inspire their own children to make a difference, Trevor doesn't hesitate. "They weren't satisfied with life the way it was!"

For that, those who come after them are deeply thankful.




Other articles by Trudy Frisk