Why Should Yesterday Be Forgotten?
Why Should Yesterday Be Forgotten?
Story and photos by Trudy Frisk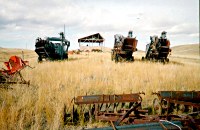 McCormick Threshers early 1920's
"Why should yesterday be forgotten?" Looming against an autumn sky, three threshing machines seem to demand an answer. Far from any museum, they stand on a gentle hill in the open grasslands near Kamloops British Columbia. They are not alone. To one side sit a hay-tedder, and a buzz saw, in front is a disc, and, in the back-ground, plows, rakes and seed-drills wait for the horses which pulled them decades ago.
It seems like a melancholy end for the old farm equipment. But these are all working machines. They may be quiet right now but they come to life each spring and fall for plowing, planting and harvesting just as they did eighty years ago.
The equipment belongs to the Inland Draft Horse And Teamsters Association, a group which knows that the heavy horses are inseparable from the work they do. To the Association preserving the draft horses meant finding and restoring the machinery those horses worked with. Founded fifteen years ago, the Association set about collecting equipment for the horses to pull.
Two members, Bob Haughton and John Van Leeuwen, have been especially interested in getting the old equipment up and running.
The Haughtons have been farming and ranching in the Kamloops area since 1910. In fact, the Associations' old farm equipment is stored on Bobby Haughton's land. John Van Leeuwen came to Canada from Holland as a child. His first summer job was haying by hand using a horse drawn mower and dump rake. Like Bobby, John started early in life with horses.
"Somebody has to do this sort of thing." John insists. Not that it's easy. They're always on the lookout for machines; following rumours of one abandoned in a meadow here or hidden away in a grove of trees there. Generally the old machines, discarded because the family sold out and moved on, or a new machine was bought, were just left to weather.
Other creatures have put them to good use. An old threshing machine in the middle of a field was covered with droppings by falcons and other hawks who knew a good perch when they saw it. Cattle liked the machines too; they made handy scratching posts.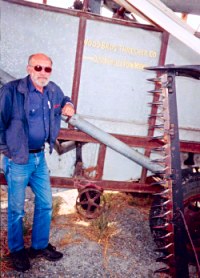 John Van Leeuwen, saving the past
Often, says John, "When people who have old equipment find out what you're doing, they have no problem giving it to you." Then there are others, who, as soon as they realize there's a market, put a high price on what they have. "You spend years looking for the stuff all over the place," John comments, "and find that the price goes up as you're looking for it."
It's meant a lot of driving from one rediscovered machine to another, with spare parts which may or may not work, putting on new tires after jacking up a machine which has had fifty years to settle into one spot. Tedious aggravation to most people but a source of great personal pleasure to Bob and John.
Just as in the old days, there's a lot of pioneer ingenuity and improvisation. One old binder, beyond salvage because trees were growing up through it, provided parts for another, more mobile one. If a couple of pulleys are missing, they'll just have to be fabricated. Some things, John points out, never change. "The knotter on the old binder is the same configuration used today, because it works well."
The Draft Horse Association is proud of its machines because they aren't in museums, they are out on the land "telling their own story.".
"Keep it, enjoy it, fire it up and drive it around!" is John's motto. "It has more value if it's able to be used once in a while."
Other people seem to agree. Once, when he was driving a restored John Deere tractor through town at its top speed of 6 miles per hour, people drove with him him, admiring the tractor, hanging their heads out their windows to listen to the sound.
An older woman at one threshing event recalled pitching bundles into the thresher when she was young. She got to do it again, and her eyes sparkled as she relived an experience from her youth.
Woods Threshing machine
The Association has collected equipment from all over: a sulky plow from Oliver, a side delivery rake and a McCormick thresher from Lower Nicola to name but a few. They can trace one piece of John Deere equipment back to its manufacture in 1938 and its shipment from the factory in 1939.
Discs, rakes, seed drills, cultivators, binders, bailers, and plows are important parts of history. But, of all the equipment the Association has reclaimed and restored, the threshing machines are most impressive. They're big and they're complex.
Three threshing machines are McCormicks. "The old time farmers shopped according to price and a McCormick was always more affordable." John notes. "But, they'd wear out two McCormicks to one John Deere." One of the McCormicks, the Red River Special, (on the left in the photo), was originally owned by the Haughton ranch. It's spent its life in Knutsford.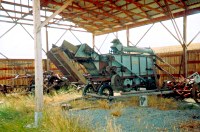 Ready to work
The Woods Brothers thresher, built about 1930,(under the roof in the photo), is not a common threshing machine. It was originally powered by a steam tractor and had a long belt to keep the noise of the machine away from the horses as they brought in their wagon loads of grain.
To pay for the machines farmers who had them threshed crops for their neighbours. Written on the side of the Woods thresher is the note "l263 barley in top field."
The Inland Draft Horse And Teamster's Association is preserving a way of life before tractors took over from draft horses. When it was easy to get ranch hands. When horses, machines and people worked on the land together. As fuel prices rise horses look more and more appealing. For more information contact: Bob and Tracey Haughton 374-3378 or John Van Leeuwen , 579-5036.
Other articles by Trudy Frisk