THE SINGLE TREE



THE SINGLE TREE

Story and photos by Trudy Frisk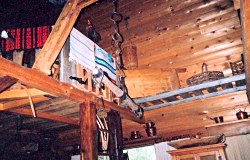 Historic Single tree and other artifacts
Xmas is a nostalgic time. Now, as the lights glow, we remember old friends separated by time and distance. This is the story of how two young cowboys from the Gang Ranch, having lost touch with each other for years, were re-united by a single-tree.
That single-tree hangs from the ceiling in the log home of Joan and Enda Green in McLure, B.C. It's graying now and the wood, (oak or possibly maple), shows cracks. It's obviously traveled many miles. But, it's simple and strong; the wood bar and metal fittings are clean and tough as if they could go to work tomorrow. The horses that pulled it are gone now, as are the cowboys who drove them. It's full of stories, one of them the tale of two close friends who never forgot each other.
The single-tree has belonged to Endy Green, antiquarian and story-teller, for over forty years. In 1950 Endy and Joan had a coffee shop at Glen Lake, near Victoria, on Vancouver Island. Bob Whitty, owner of Whitty's Lagoon, was a regular customer. Over time Bob told the Greens about his past.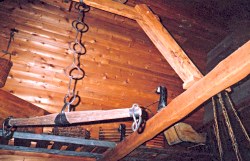 Single tree from Sooke Stage
He'd worked on the Gang Ranch, "boy and man", for many years and had a friend of the same age who worked there with him all that time. One day his friend heard that he'd received a small legacy back East so he traveled across Canada to claim it. Meantime, a company on the Island bought a stage-coach from the Gang Ranch. Bob Whitty was delegated to deliver the coach and horses. He took them over the old Cariboo Road, through the Fraser canyon and on, by ferry, to their destination. The new company was so impressed that they asked him to stay on and operate the coach, which he did, driving it from Victoria to Sooke for many years.
Bob said how often he thought of his young friend from the ranch and missed him because they'd been closer than brothers. But, he had no idea how to locate him way off in Eastern Canada.
Eventually horses gave way to motors and the Sooke Stage was a van, not a stage-coach. When Bob retired he took the single-trees off the stage-coach because they were his property.
In 1959 the Greens moved from the Island to the B.C. Interior. Before they left, Bob Whitty came in carrying a single-tree and said to Endy." I know you love this. I have a pair of them. I'll share this one with you. I know it'll have a good home."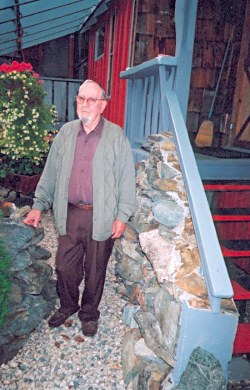 Andy Green - story teller infront of the house he built.
The Greens went looking for property outside Kamloops. A real estate agent told them that an old chap had a small ranch and riding stable where he raised horses for sale, up at Knutsford. After they'd looked it over, the owner, "a rangy old fellow", asked them in for coffee. Over coffee they got talking.
He hadn't always lived at Knutsford, said the rancher. As a young man he'd worked for a big ranch, the Gang Ranch. He told the same story Bob Whitty told, but in reverse. He'd gone East to claim his inheritance, but he just couldn't live there. When he got back to the Gang Ranch, his friend Bob was gone. All he knew was that Bob was somewhere on Vancouver Island, which was a long way off, for a young fellow, even one with an inheritance. "I guess he's dead now.", he said sadly. "No, he's not dead." Endy assured him. "I can give you his address." "If that's supposed to be a joke, young fellow…" began the rancher. "No, it's not a joke. He's a good friend of mine and he's spent all these years hoping to hear from you! "
After hearing that, the rancher could barely wait to push Endy and the real estate agent out of the house so he could write to his old friend.
To Endy all antiques have stories. "They're steeped in history," he says, "They have warmth and character." Just like the pioneers who used them long ago.
Merry Xmas.
Other articles by Trudy Frisk