A COWBOY'S SWEETHEART
A COWBOY'S SWEETHEART
Story by Trudy Frisk
Photos courtesy of Mona Chester Saemerow
Mona Chester always wanted to be a cowboy's sweetheart, a natural ambition for a girl with her family background.
Alec Hardie, one of Mona's great-grandfathers, walked from San Francisco to Barkerville in 1858 following the gold rush. He had a hotel in Barkerville but it burned in the big fire which destroyed most of the town. Hardie then settled in the Kamloops region to ranch. Years later, when John Wilson, the interior 'cattle king', bought property at Copper Creek and Indian Gardens, he purchased it from Alec Hardie. At Copper Creek Mr. Hardie raised horses and cattle and experimented with other crops. "They could grow anything there.", the family remembers. "One year they even grew peanuts."
Newman Squires, another of Mona's great-grandfathers, came to B.C. with the Harper brothers in the 1860s. He worked cattle for the Harper ranch, including making three cattle drives a year from the ranch up to Barkerville. "The hills were covered with cattle" he said of those long treks.
Mona was born at Copper Creek where her father, Bert Chester, worked on the Canadian National Railway. The family had homesteaded land at Red Lake, fifteen miles away, but times were hard and there was no money for stock. In 1927 the Chesters moved to Kamloops where Bert continued working for the CNR until he saved enough money to buy the horses and cattle they needed.
Kamloops in the 1920s and 30s was very much a ranching town. Cattle were regularly driven through the streets on their way to the stockyards. One day small Mona, playing in the sand, was nearly run over by a horse drive on its way to the Lac du Bois range.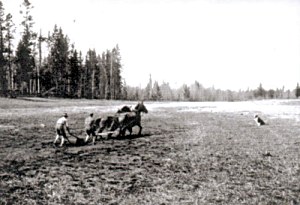 Bert and Norman Chester, Red Lake, 1940s
In 1934 the Chesters moved to their Red Lake homestead and into a family community of aunts, uncles and cousins. When the Chesters homesteaded there in 1917 John Chester and his sons Bert and Maurice claimed ¾ of a section and his brother the other ¼. Bert, Mona's father, was only 17 years old when he applied for his land. To 'prove up' on the homestead, John Chester built a house and barn and dug a well.
Mona's mother wasn't altogether pleased at leaving the conveniences of town to ranch in a location where getting supplies in winter meant taking the horses along fifteen miles of nasty trail to Copper Creek, catching the CN train to Kamloops to shop, then reversing the procedure on the way home.
But, for a child, it was heaven. Mona still recalls large patches of pink lady's slippers where she picked flowers for their mother every Mother's Day. Mona had cousins to play and ski with (on homemade skiis). She learned such fundamental western skills as roping calves for branding.
Cousins, who hadn't seen the ranch had images of Mona riding freely over the range. Hah! As she puts it, "There were two horses, and two saddles and I had one brother. I did a lot of running after the cows!" She roped the calves once they were in a corral. And, she also chased wild horses, on foot, into a wing fence, where they were sorted out and taken to town to sell. One bay colt looked to be worth keeping, although it was covered with wood ticks. Coal oil, the remedy of the time, was applied. The ticks dropped off and the Chesters had another horse.
There was an annual stampede at Red Lake. It was an exciting, free place to live. But, there were no jobs, so at seventeen Mona moved back to Kamloops to look for work. She picked hops, ("just for five hours"), tried out a fruit farm and worked in the hospital for three months before settling into the Buttermaid bakery. "We were all kids", Mona remembers. "Most of the adults were away at war." Buttermaid had the only doughnut machine in Kamloops, an attraction for truckers to whom Mona was known as the 'Doughnut Queen'. But, her heart was still with cowboys.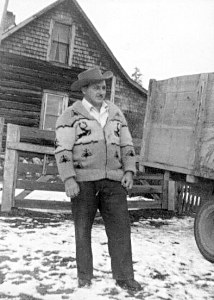 Mel at the Ranch
At a Knutsford dance, she met a special one, Melvine Saemerow, home on leave. Mel had fought in Europe, and when the war was won there, volunteered for the Pacific front. He was given a month's leave with his family first. Mona already knew his family, so it seemed natural to greet Mel as 'cousin'. The war in the Pacific ended before Mel's leave did. He'd intended to go up to the Nahanni region in northern B.C., maybe explore Headless Valley. After he met Mona, the Nahanni wasn't as enticing. They were married in 1946.
Before he became a soldier, Mel was a cowboy. His family homesteaded in the Anderson Creek district south of Kamloops where his father Fred found "Grass growing as high as your knee."
Mel got a job as ranch manager for the Devick family's Klondike Ranch. "Being ranch manager meant he did all the work", Mona explains. "And his wife did whatever he couldn't." They worked together on all sorts of projects. "Should we put stones in the fence post hole to brace it?" Mona asked as they built a fence. "I never put stones in fence post holes.", replied the practical Mel. "I'm the fellow who might have to dig them out!"
Raised in a ranching family Mona knew instinctively that the cattle come first. When a ranch hand asked permission to bring a newborn calf having problems into the ranch house for warmth, Mona was indignant. "He shouldn't have had to ask; he should just have brought that calf in!"
One day Mona was dressed to go to town in her best blue suit, flowered hat and high heels, when she realized the cattle were out. She wasted no time in running after them urged on by encouraging honks from passing truckers who watched her pursuit. She got them all penned.
Mel drove the last herd of cattle through Kamloops to the stockyards. First he had to get them on the Red bridge, not an easy matter. Newly built sub-divisions complicated things. A cow got into a yard. Out came the homeowner waving a stick and yelling, "How am I going to get that cow out of my garden?" "Easy enough.", said Mel, riding flat out to rope the offending cow, and leave the garden a bovine-free zone, if a bit trampled.
Mel and Frank Devick were getting ready to move their cattle from the Kamloops Indian Reserve up to the Devick ranch one chilly day. "Do you know how cold it is?" Mel asked Frank. "Hell, no! If I knew how cold it was , I wouldn't have come out!" Frank retorted.
No matter how cold, hard, or rough the work, Mel loved ranching. "I don't know why everybody doesn't want to be a cowboy!" he declared.
A ranch foreman needs a good horse and a good dog. Mel had Flash, his bay horse, and Hoppy, the border collie. As a pup, Hoppy herded chickens, kids or horses, whatever was handy and seemed scattered about. If Mel was away at milking time, Hoppy would fetch the milk cow to the yard and keep her there till somebody was ready to milk her. "Between that horse and dog, you don't need a cowboy." Frank Devick decided.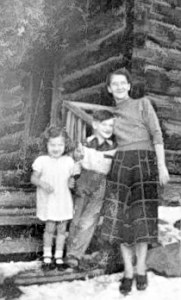 Brenda, Nels and Mona 1954
Details of ranching life puzzled city people. Mona, visiting relatives at the Coast, attended a society tea. The ladies were fascinated by this visitor whose husband was a cattleman in the wild interior. "How many cows do you have?" "About 120 head." Mona told them. The ladies marveled. "How does he manage to put them all in the stables at night?" Keeping as straight a face as possible, Mona informed them that stables weren't used usually and cattle weren't much trouble except at calving time. "Calving time?" She found herself explaining to a group of doctor's wives the problems with cows giving birth.
Brenda and Nels, Mona and Mel's children, learned their first lessons about life on the ranch. Tact was important. The senior Mrs. Devick a very formal, stately lady, was with Nels one day, watching Mel drive the team of heavy draft horses. "What are their names?" Nels asked. "Prince and Duke", Mrs. Devick told him. Nels thought for a while, then shook his head doubtfully. "That's not what Daddy calls them."
Mel is gone now and Mona lives in town. For thirty-five years she's lovingly created miniatures of life in the west. Though not exact replicas, her Meadows Ranch log house, Line Shack and War Bride's First Home are similar to the originals with their linoleum floors, hooked rugs and wash basins. "It's a microcosm of life". Mona explains. The miniatures are a vivid visual reminder of western ways not long ago when a boy's dream was to be a cowboy and a girl's dream was to be a cowboy's sweetheart.
Other articles by Trudy Frisk